---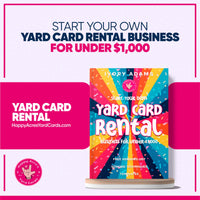 Want to know how to start a successful yard card rental business for under $1,000? Hooray, you're in the right place! The foundation of any great yard card display starts with your inventory and ends with technique. As a yard carder, your earning potential ultimately begins with you and your consistency. Whether your yard card displays are "Fancy Nancy's" or "Plain Jane's," both will sell if they are professional-looking. 
Let's say for a 15-30 minute "Happy Birthday Display," you can profit $85. What if you did five of those a week, for a year? That's an extra $20,400!
Learn...
💥 How to establish a yard card business 
🔥 How to buy start-up inventory for under $1,000
💥 Financing
🔥 What start-up inventory is a MUST to buy
💥 What stakes are a MUST to buy
🔥 Industry secret tips and tricks for sturdy displays
💥 Vendor's list (30 plus companies to choose from)         
Recieve your digital copy today following your purchase!